Cooking Thanksgiving dinner for a big group is no easy feat.
That's why "Good Morning America" brought in celebrity chefs Rocco DiSpirito, "Food Network Star" champ and former NFL player Eddie Jackson, and Sandra Lee to answer your Thanksgiving Day cooking questions and dish up some tips and last-minute recipe ideas.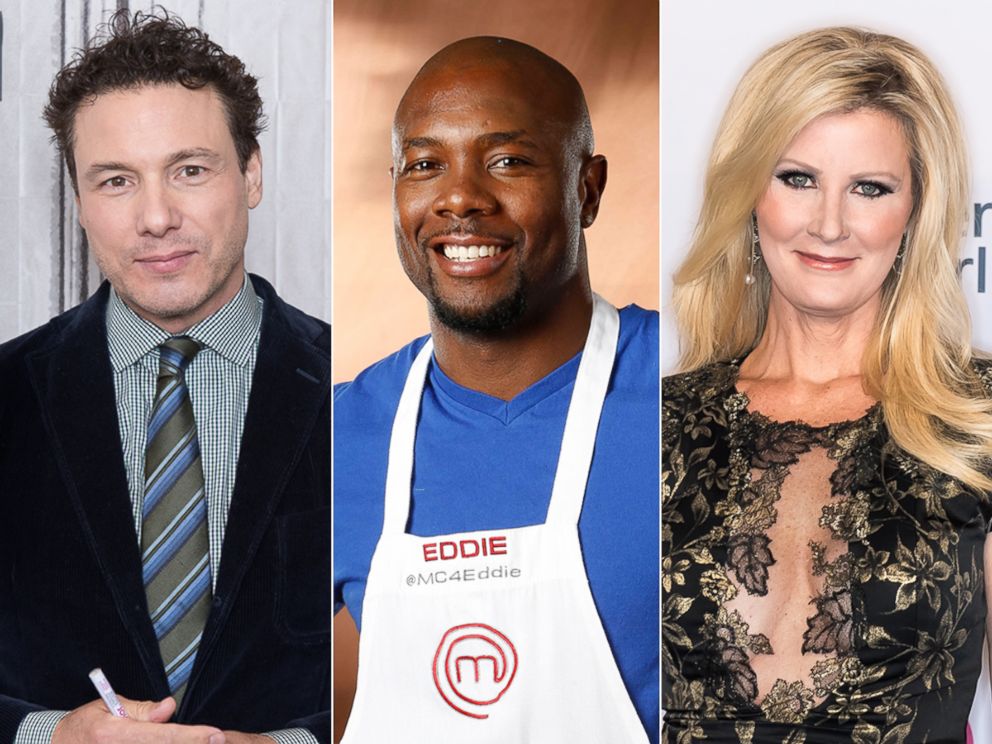 Getty Images
Rocco DiSpirito's turkey tips and recipes
DiSpirito recommends a cooking method called spatchcocking your turkey, which cuts down on cooking time and help cook the bird evenly. All you have to do is remove the backbone with a serrated knife or poultry shears. Flip the turkey over on the cutting board and lay the turkey down flat on roasting pan with a wire rack, breast side up, and bake for about 1 hour and 10 minutes depending on the size of your bird. For the exact recipe and timing, click here.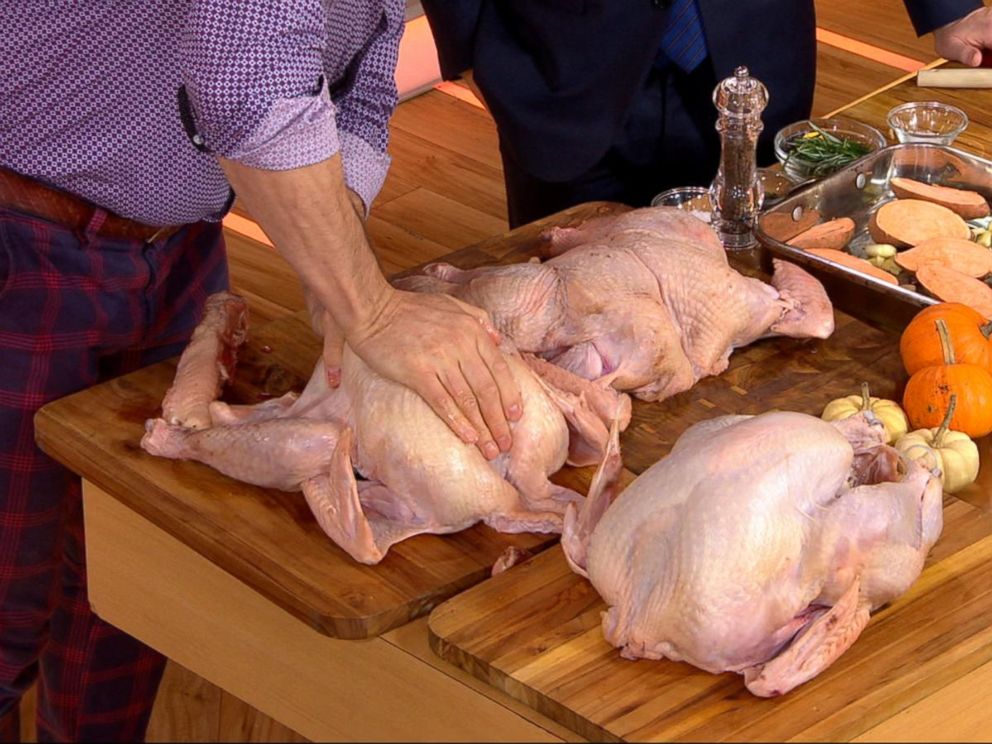 ABC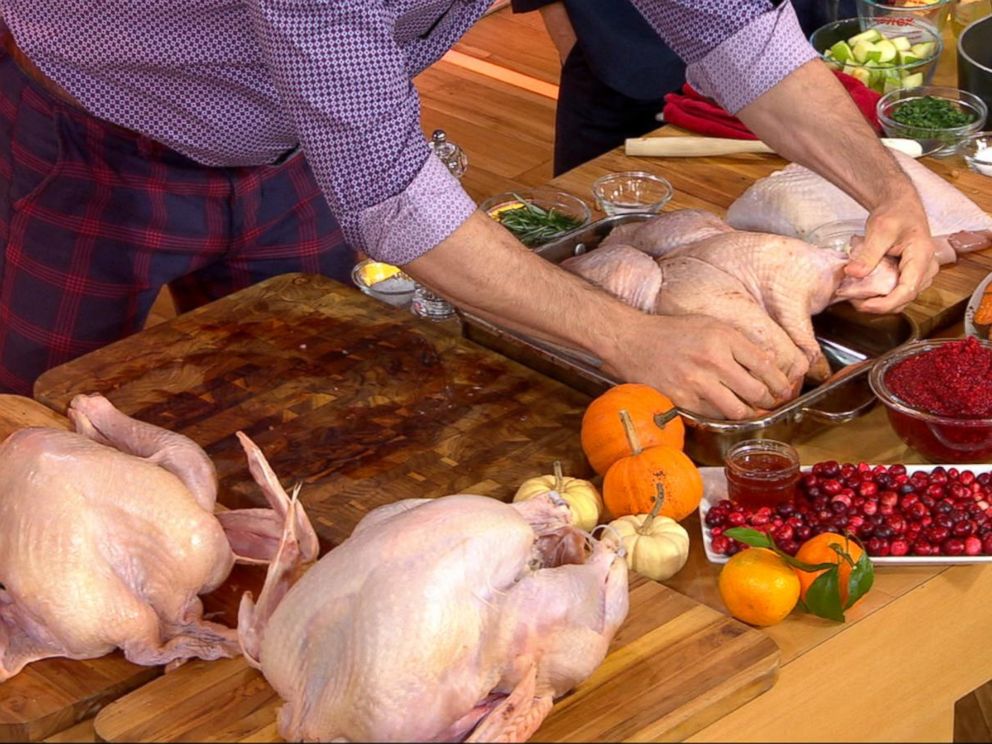 ABC
1. If your family prefers white meat, you can also apply this method to a breast of turkey without leg meat. Use the same exact method and it will cook even faster.
2. If you love bacon on your bird, don't let the spatchcock get in your way! When bird is almost done, 45 minutes into cooking, remove it from the oven and apply raw bacon strips all over whole bird in a simple lattice formation for bacon bliss.
3. Spatchcocking will save at least the space of one oven shelf. If you need to save even more room, cook the bird on top of your stuffing instead of the usual diced carrots and onions. Don't worry about it cooking through, it will, since the stuffing will not be inside the bird.
4. To baste properly, heat up some whole butter, herbs and garlic on a pan on the stove top. When it is golden browns brown and herbs and garlic smell good, pour in directly on top of the bird in batches and use it to baste the bird all over.
DiSpirito's tips to make a whole turkey breast with stuffing, gravy
Click here for his whole boneless turkey breast recipe and here for his acorn squash stuffing recipe.
1. Try placing your favorite herbs, butter and lemon zest under the skin for a pro hack. (Some of us put black truffles under the skin!)
2. To make an easy mushroom gravy, add a can of chicken stock and a can high of quality canned mushroom soup to the roasting pan from the beginning. When the bird is done, simply remove the breast and stuffing in one piece from the pan. Bring drippings to a boil right on the stove top in the roasting pan and season with salt and pepper and serve.
3. Cook your side dishes at the same as the main course, at the time, in the same pan. Use a larger roasting pan and surround the turkey breast with your favorite fall veggies like large florets of cauliflower, split Brussels sprouts, whole russet potatoes or sweet potatoes, and they will be ready to eat with the breast, all at the same time.
DiSpirito's cranberry sauce tricks
Click here for his cranberry sauce recipe.
1. Add mint or rosemary and/or cinnamon or nutmeg to give your cranberry sauce a stronger personality and holiday feel.
2. Try a different seasonal fruit for a change. Pomegranate or persimmons are perfect this time of year and you can make the same raw sweet and sour sauce with them using my cranberry sauce recipe. Click here for the recipe.
3. Make a cranberry sauce bar and let your guest mix their own! Serve crushed fresh cranberries, cooked fresh cranberries, canned cranberries alongside honey, cinnamon, coconut nectar, brown sugar, sweet herbs like tarragon and mint, orange, lemon or lime zest, candied kumquats -- you get the idea -- and let your guests decide which kind of cranberry sauce they'd like to make for themselves.
4. Make small take-home gift-size containers of your cranberry sauce as a favor for guests. Fill a miniature Ball mason jar with some of your cranberry sauce and write each guest's name in it so it doubles as a placeholder as well as a party favor!
5. Try an instant cranberry mustard glaze. Simply mix a can of your favorite cranberry sauce with a 1/2 cup of strong Dijon mustard and pour it on top of the turkey breast 20 minutes before it's done and let it reduce right in the bird until it's shiny and sticky, like a store-bought glaze.
Eddie Jackson spices up sides
The winner of "Food Network Star" and former NFL player Eddie Jackson has some easy and delicious ideas to revamp your sides including his "dressed up" mac and cheese. Click here for the recipe, which includes three types of cheese and andouille sausage.
Pro tips: To give the dish a creamier texture, you can also use cream cheese.
Make sure you season your boiling water prior to putting in the noodles.
Let the dressing cool before adding macaroni.
He also spices up regular green bean casserole by adding sweet potato, mushrooms and feta cheese. Get the recipe of his Feta cheese green bean casserole here.
Pro tips: Use unsalted butter to control the seasoning, as feta cheese can be salty.
This is a great dish to make ahead and bake the day of, to make your Thanksgiving day easier.
Mushroom-glaze Brussels sprouts: Jackson's version uses soy sauce, balsamic vinegar and more to add delicious flavor. Click here for the recipe.
Pro tips: Make sure to thoroughly dry the sprouts before cooking, to ensure they brown evenly.
Heat your pan before adding sprouts, which will ensure a nice crust.
Sandra Lee does dessert
Lee, the "Semi-Homemade Cooking" star, has recipes that you can whip up with premade mixes today from the store.
If you have 45 minutes, make her carrot cake apple bread pudding, which calls for frozen carrot cake, instant butterscotch pudding mix, walnuts, dried apples and a few other grocery store essentials. Click here for the recipe. Pro tip: You can substitute carrot cake for frozen glazed donuts, walnuts for all almonds, and butterscotch pudding for vanilla pudding.
If you have under two hours, make her spiced bundt cake with citrus glaze. You'll need yellow and spice cake mix, canned pumpkin pie mix, and coloring to make the glaze. Click here for the recipe.
Pro tip: Substitute orange juice for cranberry juice, orange food coloring for red food coloring, and yellow/orange roses for red roses.
If you have more time, try her pumpkin-gingersnap chiffon pie. This dessert can be whipped up quickly but must cool for 45 minutes and chill for five hours. Click here for the recipe.
Need some Thanksgiving pie help? @SandraLee shows you her Pumpkin Gingersnap Chiffon Pie: https://t.co/jGJ0mfxdGD pic.twitter.com/9VwnXQpirA

— Good Morning America (@GMA) November 23, 2017
Pro tip: The pumpkin can be substituted for finely mashed sweet potato and ginger snap cookies can be subbed out for vanilla sandwich cookies.
...
Read more