St. Charles Parish officials are hailing the near-completion of a new pump station in Luling, marking what they call "substantial progress" for a 33-mile flood protection system planned on the parish's west bank.
The pump is a small part of the West Bank Hurricane Protection Levee system that ultimately will close a large gap in hurricane protection for the area between the Davis Pond Freshwater Diversion in Luling and La. 308 in Lafourche Parish.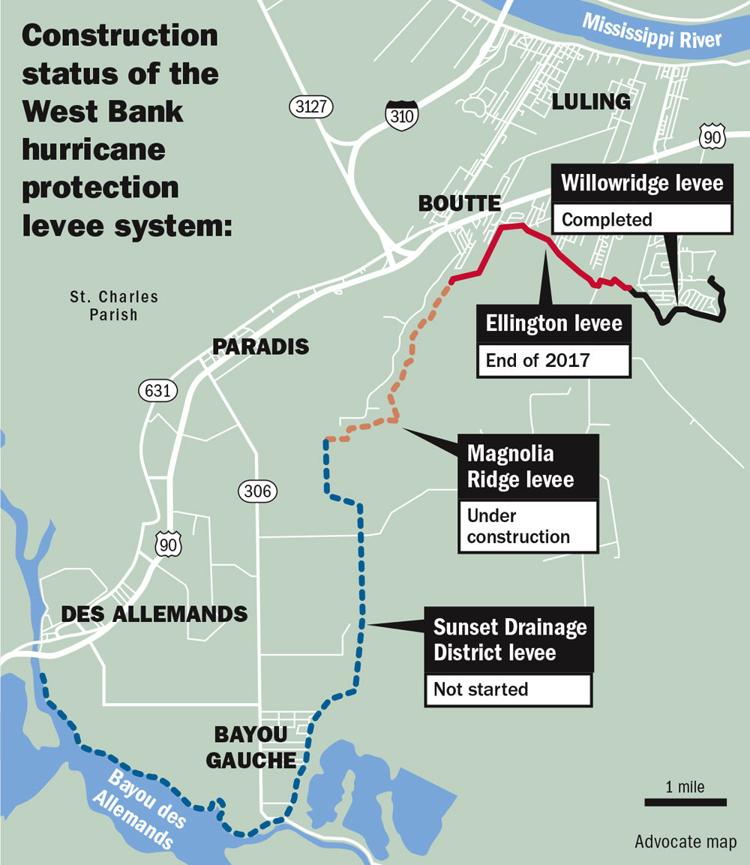 Buy Now
The entire system will be made up of multimillion-dollar pumps and earthen levees that officials hope eventually will achieve 100-year level protection for west bank residents. That level would afford residents protection from flooding triggered by a "100-year hurricane," or a storm that has a 1 percent chance of occurring in any given year.
The newest element in the system, the Willowridge Pump Station, has just two "minor items" remaining on its final punch list, according to parish officials. Once those are finished, construction will be complete on one of four sections of the overall protection system.
Calling it a "magnificent structure," according to the St. Charles Herald-Guide, Parish President Larry Cochran said the new station was the first of several to come.
The pump station will complete the Willowridge Reach, as the first section of the overall project is called. The levee in that area has already been finished. It sits in front of 27 acres of wetlands near the Davis Pond Diversion Canal and 23 acres of retention area south of Willowdale Boulevard and Beaupre Drive.
After Willowridge, three other sections are planned, all with multiple phases that include planned levees and pump stations.
Ellington Reach, due to be finished next, will stretch from Luling to Boutte. The levee in that stretch is slated to be built by the end of the year. The design for the Ellington Pump Station is almost finished, too, with construction slated to start as early as next year.
After that comes the Magnolia Ridge Reach, which covers Boutte. The pump station that will operate in that area is estimated to cost $10.2 million. Officials are studying the levee that now exists there to make sure it meets criteria; they will add to it in areas that are too low.
The last phase of the project, the Sunset Reach, will protect Paradis, Bayou Gauche and Des Allemands. Parish officials couldn't provide estimated completion dates for that section, but they said the parish has acquired 24 of 30 levee servitude parcels needed from 28 impacted landowners.
The long-term objective is to construct levees to a 12½-foot elevation. In the interim, however, officials plan to build levees at least 7 feet high to "significantly reduce" flood risk.
In 2013, the levee system was estimated to cost at least $150 million. That didn't include the Sunset Reach, which was added later. Because the project isn't part of the area's federal levee system, it's up to the parish to find ways to finance it.
Tristan Babin, a spokesman for the parish, couldn't immediately provide an updated estimate for the project's cost, but he said Cochran's administration has $23.7 million budgeted in 2017 for the project.
A new bond issue passed in 2017 will allocate an additional $15 million, and the parish has set aside about $9.4 million in next year's budget for levees, Babin said.
The Army Corps of Engineers in 2013 approved the final phase of the levee project, according to a report at the time in The Times-Picayune.
Officials say the west bank levee is important because that area of St. Charles Parish is at risk from tidal surges from the Gulf of Mexico and other hurricane-related flooding, which frequently damages residential and commercial buildings, as well as industry and local agriculture.
The unprotected area has been declared a federal disaster area 14 times in the past 30 years due to named storm events.
Cochran has said that flood protection is his main focus as parish president.
"As a councilman I saw the importance of these projects, so when my administration came in we made sure that drainage and flood protection were a top priority," Cochran told the St. Charles Herald-Guide. "It is difficult to procure federal dollars for these projects, but it has made us more aware of the importance of using local funds to do so."
...
Read more