Dan Cowhey and his neighbors in the Valley Forge Homes development had heard SEPTA's preferred route for a rail extension into King of Prussia would run practically through their backyards.
They joined the local resistance movement. The group Cowhey formed, No KOP Rail, which argues the new rail would benefit businesses and out-of-town commuters more than residents, not only persuaded SEPTA to consider different paths away from homes but also helped delay the whole project.
"I took it as a little victory," said Cowhey, the 33-year-old father of a toddler son. "We're slowing them down a little bit. They're really starting to think about this."
Talk of extending the Norristown High Speed Line to one of the region's largest commercial and employment centers has a long history, but the first official planning work began at the end of 2012. The rail is projected to start carrying passengers in 2023.
It is the first rail expansion in the region since NJ Transit opened the light-rail River Line in 2004.
The King of Prussia rail extension is a case study in the many bureaucratic stops attendant to new infrastructure. Transportation projects used to encounter fewer roadblocks before the days of community outreach and environmental impact statements, said Gregory Krykewycz, associate director of transportation for the Delaware Valley Regional Planning Commission. Legislation such as the National Environmental Policy Act of 1969 made those steps necessities. SEPTA studied 30 possible routes.
"Unfortunately, those things take time," said Liz Smith, director of strategic planning and partnerships at SEPTA and the project manager. "But, ultimately, the end result is a better project overall."
SEPTA estimates the extension will increase ridership on the Norristown High Speed Line by an average of 9,500 trips per weekday by 2040.
Matthew Mitchell, vice president of the Delaware Valley Association of Rail Passengers and a supporter of the rail extension for its benefits to the regional economy and increasing numbers of commuters, acknowledged that "determined opponents" have delayed the project through the years. He also pointed to a more mundane culprit. "There's a very, very large amount of paperwork required for a project like this," he said.
Eight hundred and forty-five pages.
That's the length of SEPTA's draft environmental impact report on the proposed rail extension, including appendices, that the authority published in October. The document lays out potential consequences of various routes for nature and residents and is among the studies the federal government requires for projects that want federal dollars.
SEPTA plans to apply for federal funds to cover half of the more than $1 billion cost of the King of Prussia rail. The authority is looking for ways to pay for the other half and wants to start a request for proposals for preliminary engineering work in early 2018. After more public input and a final environmental report in 2019, SEPTA estimates design and construction will take four years.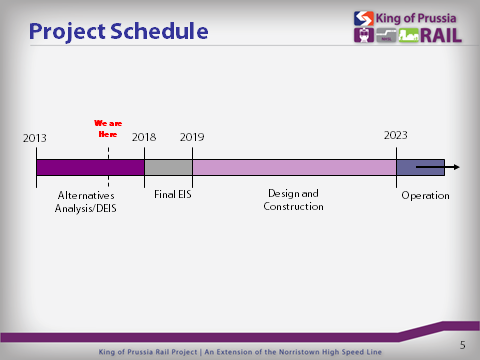 To build and operate the extension, SEPTA will need to secure rights of way from Peco, the Pennsylvania Turnpike Commission, the Pennsylvania Department of Transportation and Upper Merion, since a couple sections of track would run along the median of township roads. SEPTA has no plans to seek residents' property through eminent domain.
SEPTA also will need land development approvals for each of the five stations — one at Henderson Road, two at the King of Prussia Mall and two at the nearby business park — and might need zoning approvals. The proposed route would extend west from the Norristown High Speed Line just before the DeKalb Street Station, follow along the south side of the Pennsylvania Turnpike, cross Route 202 and end at the Valley Forge Casino Resort.
"In our region, we don't get a lot of new transit to plan along," said Andrew Svekla, associate manager of smart growth for the Delaware Valley Regional Planning Commission.
SEPTA usually retrofits existing stations, but these stations would be new. The question this time is, "How we can add transit to an area that has evolved without it, and has evolved around the automobile?" Svekla said.
The commission has been working with SEPTA, Montgomery County and township officials over the last year to determine what can be done to improve access to transit and make the area more walkable. The commission plans to release its final report with recommendations — with infrastructure improvements such as more sidewalks and safer crosswalks — early next year for the King of Prussia rail project.
The elevated rail line would still be at least five years from reality.
SEPTA This map shows SEPTA's preferred route for the King of Prussia rail extension.
"I wish it wouldn't take 10 years," Valerie Arkoosh, chair of the Montgomery County Board of Commissioners, said of the project. "But the process has really allowed residents to make their concerns heard."
Some concerns persist, despite SEPTA's including residents in the planning and moving the route. Arkoosh was among the government and SEPTA officials who walked through Cowhey's yard, which sits a few hundred feet from the turnpike, one Saturday morning a couple years ago and saw how close the train would come to homes. He and his neighbors don't want the extension in their neighborhood at all and some are still holding out hope the delays mean that — as in years past — the rail won't happen at all.
"It is kinda scary, because essentially we're a year away from, 'It's a done deal,'" Cowhey said, referring to the final plan SEPTA will publish. "After next winter, the war is over."
More Coverage
More than 100 teens brawl at 8th Street SEPTA station
Dec 1 - 4:35 PM
SEPTA's decorated holiday trolleys return
Dec 1 - 11:42 AM
SEPTA gives timeline for death of teenager found on train
Nov 29 - 4:19 PM
Teen found electrocuted on top of SEPTA train 'was just a good kid who ran'
Nov 29 - 2:06 PM
We encourage respectful comments but reserve the right to delete anything that doesn't contribute to an engaging dialogue Help us moderate this thread by flagging comments that violate our guidelines Commenting policy | Comments FAQ
Comment policy:
Philly.com comments are intended to be civil, friendly conversations. Please treat other participants with respect and in a way that you would want to be treated. You are responsible for what you say. And please, stay on topic. If you see an objectionable post, please report it to us using the "Report Abuse" option.
Please note that comments are monitored by Philly.com staff. We reserve the right at all times to remove any information or materials that are unlawful, threatening, abusive, libelous, defamatory, obscene, vulgar, pornographic, profane, indecent or otherwise objectionable. Personal attacks, especially on other participants, are not permitted. We reserve the right to permanently block any user who violates these terms and conditions.
Additionally comments that are long, have multiple paragraph breaks, include code, or include hyperlinks may not be posted.
Load comments
...
Read more