Have you noticed all the bad news out there lately? Like the robbery and shooting of a man found behind a Baton Rouge Health Club last month? Police arrested two teenagers, 17 and 18. Or the story of girl, only 12, lifting her skirt, revealing a gun to a woman in the Bywater in New Orleans last month? With the help of another girl, only 16, they both carjacked the woman. Or what about when two boys, ages 14 and 17, shot and killed another teen, only 18, outside a sweet-16 party in Kenner last weekend? The parents hired an off-duty Kenner cop for security fearing their daughter's sweet-16 party could bring trouble. It did. One cop wasn't enough.
And then there's the horrific church shooting in Texas or the Las Vegas mass killing or the opioid crisis or our nation's $20 trillion dollar debt or Donald Trump's unpresidential tweets. I could go on and on.
Thanks to technology, we are enveloped with depressing news. Our phones, computers, radios and TVs constantly and continuously rub our faces in it.
But the truth is, there has never been a better time in history to be alive than today. Oxford economist Max Roser reports that in 1820, 94 percent of the world lived in poverty. Now, it's 10 percent. MIT economist Maxim Pinkovskiy reports that 80 percent of the world's worst poverty has been eradicated in the past 30 years, mostly as a result of the fall of the Soviet Union and the spread of capitalism.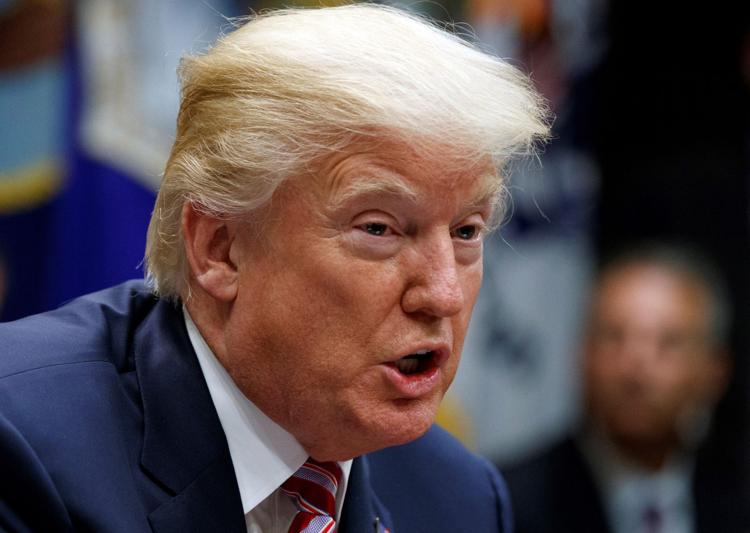 Buy Now
In this Tuesday, Oct. 31, 2017 photo, President Donald Trump speaks during a meeting in the Roosevelt Room of the White House in Washington. Trump is calling for "Merit Based immigration" following the truck attack in New York City that killed eight people and injured 11. Trump says on Twitter Wednesday that the driver in Tuesday's attack "came into our country through what is called the 'Diversity Visa Lottery Program,' a Chuck Schumer beauty." (AP Photo/Evan Vucci)
Evan Vucci
According to historians, we've never been safer as a country. At the time of our founding, America had 30 murders per 100,000 people. It dropped to under 20 by 1800, and to under 10 by 1900. The murder rate dropped to as low as 4.6 per 100,000 in 1963 but began to rise again once the welfare state was launched. The national murder rate rose to as high as 10 per 100,000 in 1980. It sits now at 5.3 per 100,000. Unfortunately, Louisiana's murder rate is four times as high as the national average at 20 homicides per 100,000.
Dan Fagan: Donna Brazile devoted life to Democratic Party, until she exposed 'crooked Hillary'
And globally, we are safer, with the world mostly at peace. President Donald Trump has decimated ISIS after President Barack Obama coddled it for years. And for those who thought the election of Trump would mean the end of civilization as we know it, well, what do you know, here we are a full year into his presidency, and Muslims still live in America, it's not illegal to be gay, and we still have a free press. I guess the "we are doomed" hysteria over Trump's win might have been just a tad exaggerated. We got the same hysteria from the right when President Barack Obama was first elected.
Times are good, especially in America. We have the best health care in the history of mankind. We are living longer and better. If we fall down and hurt ourselves, an ambulance shows up at our door within 10 minutes. We can order just about any food, and it will show up hot within 20 minutes. Most of us have high-speed Internet, smart phones, computers and big TVs. In America, even the poorest of poor get a free smart phone. Currently, there are more than 60-million jobs open in our country. Very few of us are actually poor. Obesity is often common in some of our country's poorest neighborhoods.
Dan Fagan: I may be ashamed of my boring Metairie roots, but it's safer living here than New Orleans
Yet despite all of that, a recent Harris poll shows only one-third of Americans say they are happy. Could it be our culture has a considerable gratitude deficit? Have we become a nation of spoiled whiners and complainers? I heard recently of a group that went on a negativity fast. For 40-days, members of the group refused to complain about anything. They say it changed their lives. They had more energy, got more done, and slept better. I would imagine they were much easier to be around than most people.
I'm not saying we should bury our heads in the sand and ignore our problems. We have some big ones, and they deserve our attention. But at the very least, we should acknowledge that overall, we've got it pretty good.
Dan Fagan, a former TV and radio broadcaster who lives in Metairie, writes a column that appears Wednesdays and Sundays. Email him at faganshow@gmail.com.
...
Read more