The president has spent a great deal of time talking and texting about NFL players who have kneeled during the playing of our national anthem. The players have done this first, to focus attention on the number of black citizens who have been killed by police and second, to protest the president's remarks. The president calls this disrespecting our flag, our country, and our military. But I not think that is the players' intent. It appears to me that the players have been respectful. They do not make noise or rude gestures; instead, they kneel or sit quietly. They seem to be showing respect for our country and our Constitution, which allows individuals to speak out about matters perceived as injustice. This is exactly what differentiates our country from others such as Russia, where you can be arrested, jailed or killed for expressing displeasure with the government. Instead ours is government of the people, by the people, for the people.
I could understand if the president said:
"I know that this is a matter of great concern to these great players who give so much to us week after week. So I would like to meet with them to get their ideas for what we can do to solve this problem. But I ask them not to kneel during the national anthem because I think it shows disrespect for our great country and the men and women who have fought for it."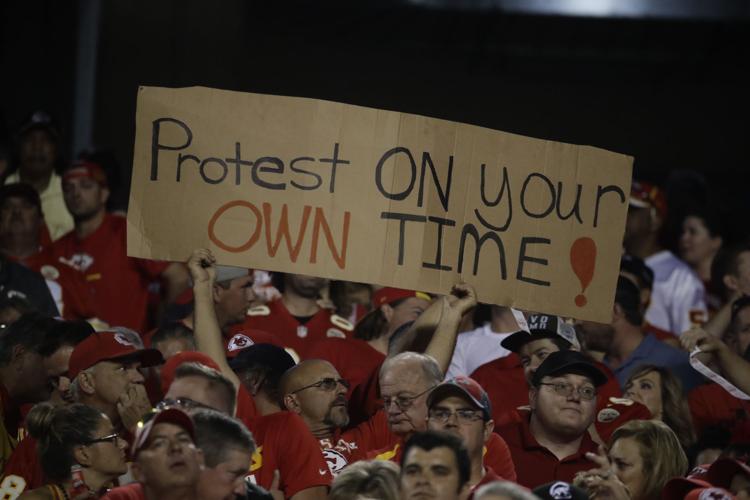 Buy Now
A Kansas City Chiefs fan holds a sign against the anthem protests during the first half of an NFL football game against the Washington Redskins in Kansas City, Mo., Monday, Oct. 2, 2017. (AP Photo/Charlie Riedel) ORG XMIT: MONH1
Charlie Riedel
But the president is not interested in understanding or solving problems; he is interested in rabble-rousing. This president calls their actions unpatriotic when he himself evaded the draft, mocked war hero and wounded veteran John McCain, and regularly undermines the First Amendment protections of freedom of the press by taunting reporters and encouraging others to do so, by lying to the public while denigrating factual reporting as "fake news," and by excluding American reporters from the White House while welcoming Russians. I could go on. These actions of his are far more unpatriotic.
Disrespect — like beauty —may be in the eye of the beholder. By goading these players, the president hopes to turn attention away from his own shortcomings and from the many problems our country faces. I cannot say it better than the Bible:
Letters: Ransburg column right on target
"How can you say to your brother, 'Let me take the speck out of your eye,' while there is still a beam in your own eye? You hypocrite! First take the beam out of your own eye, and then you will see clearly to remove the speck from your brother's eye."
Nancy Picard
retired teacher and lawyer
Mandeville
...
Read more