Deep in the English countryside about 12 miles north of Cambridge, hundreds of used tractors are waiting to be snatched up by one of many overseas buyers getting a better bargain because of Brexit.
Lured by a weaker pound and good quality of machinery, dealers from the European Union and as far away as Lebanon and Sri Lanka flock to the monthly Cheffins auction held on an area the size of 40 soccer pitches. Sales -- the bulk of which are exported -- have jumped since the U.K. voted to leave the EU, reaching a three-year high in the first 10 months of 2017.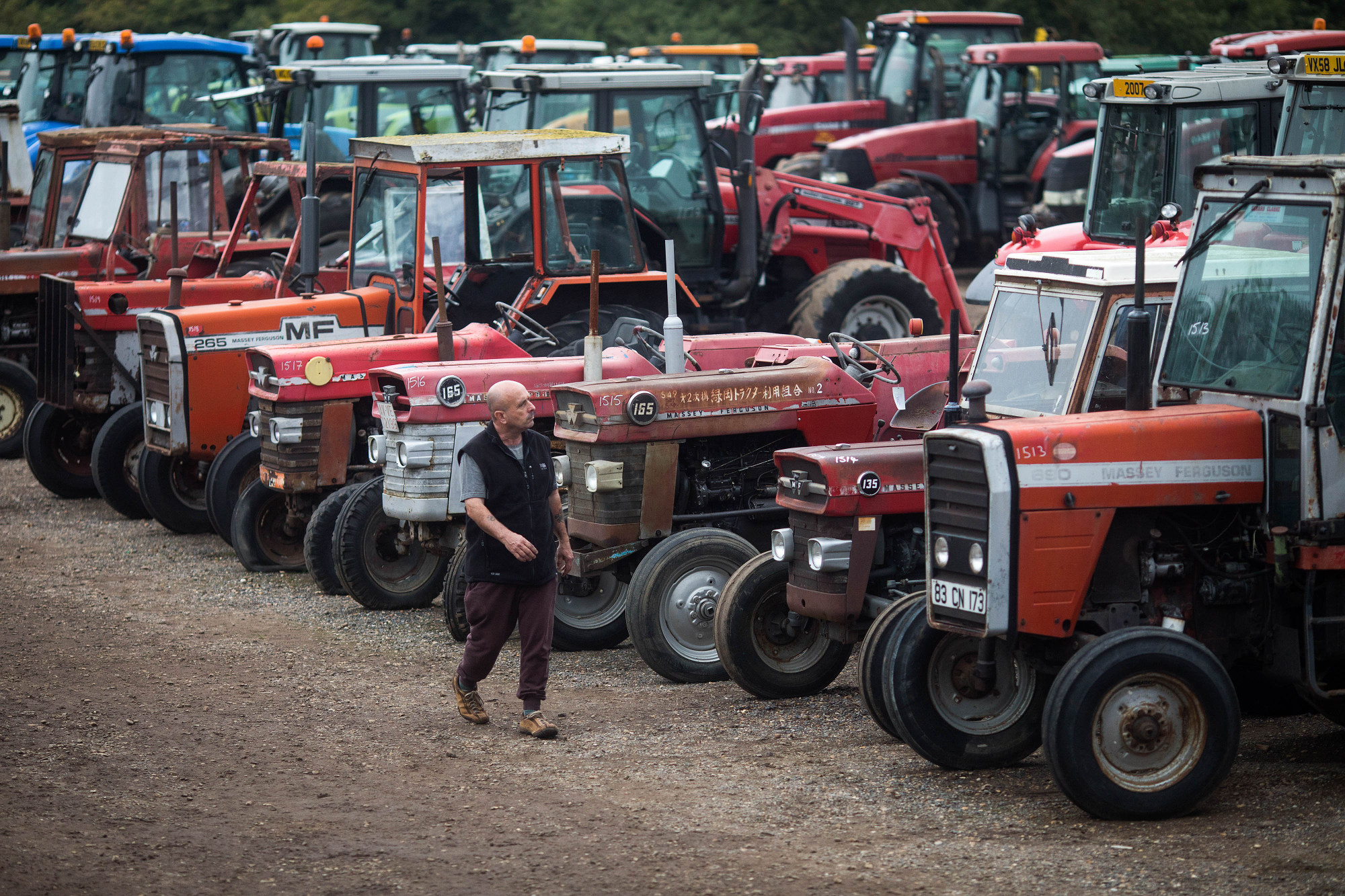 A visitor inspects tractors at the Cheffins auction.
Photographer: Simon Dawson/Bloomberg
"Since the Brexit day and the reduction on the value of the pound, it's a great buying opportunity for all Europeans to come and buy here," Bill Pepper, a director at Cheffins, said at the September auction. "We are the only auction to have such a variety of machines, so it's almost like a one-stop shop."
Sterling is the worst-performing major currency since the June 2016 vote, giving foreign buyers more value for money. From Deere & Co. tractors preferred by Spaniards to Massey Fergusons favored in Asia and Africa, Cheffins's sales jumped 15 percent this year to October, following even bigger gains in the months after the referendum. Some demand is also from U.K. farmers wary of buying new machines ahead of the exit from the bloc.
For non-Brits, the pound's slide has been good news. At the auction, second-hand goods buyer Hassan Alaywi was looking for an old tractor to fill up the last space in his container bound for Lebanon. He said the lower prices meant he could make any necessary repairs and still make a 20 percent export profit.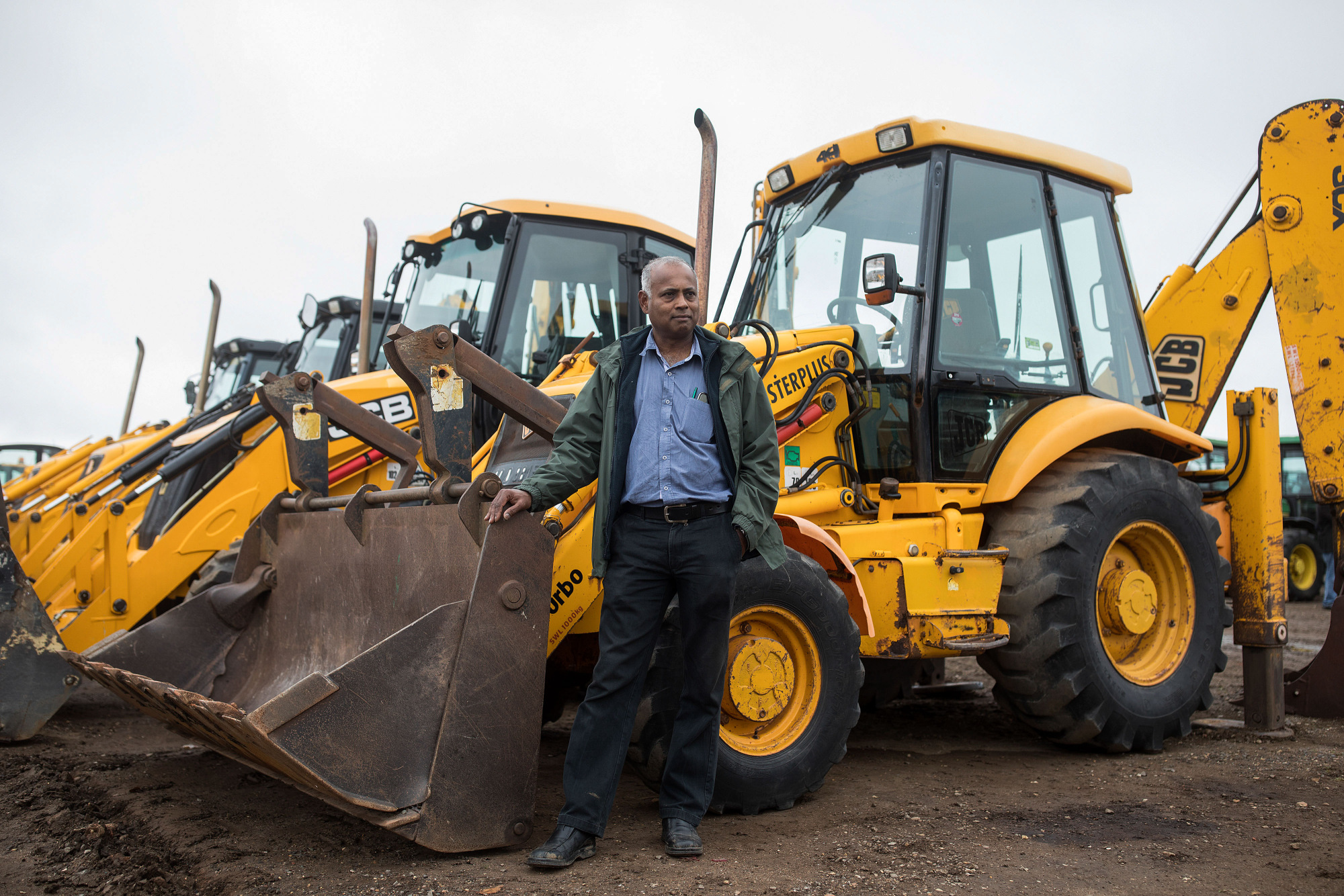 Harsha Dharmawardene
Photographer: Simon Dawson/Bloomberg
Harsha Dharmawardene, a Sri Lankan dealer who has bought more than a thousand used tractors in the past 35 years, was also browsing the field of some 300 machines in Sutton. While he wasn't planning a purchase in September -- a month the pound rallied -- he said he took advantage of lower prices right after the Brexit vote. He usually exports the machines to his home country and fixes them before shipping as far afield as East Africa.
Cheffins sold about 30 million pounds ($40 million) of tractors and parts so far this year. The auction can offer good deals: earlier in 2017, a two-year-old John Deere vehicle sold for 56,000 pounds, almost half the cost of a new one.
The auctions also attract local buyers. On the back of lower income following several years of falling agricultural prices, U.K. farmers remain cautious of making investments before the impact of Brexit becomes clearer, said Stephen Howarth, an economist at the Agricultural Engineers Association, which tracks new vehicles.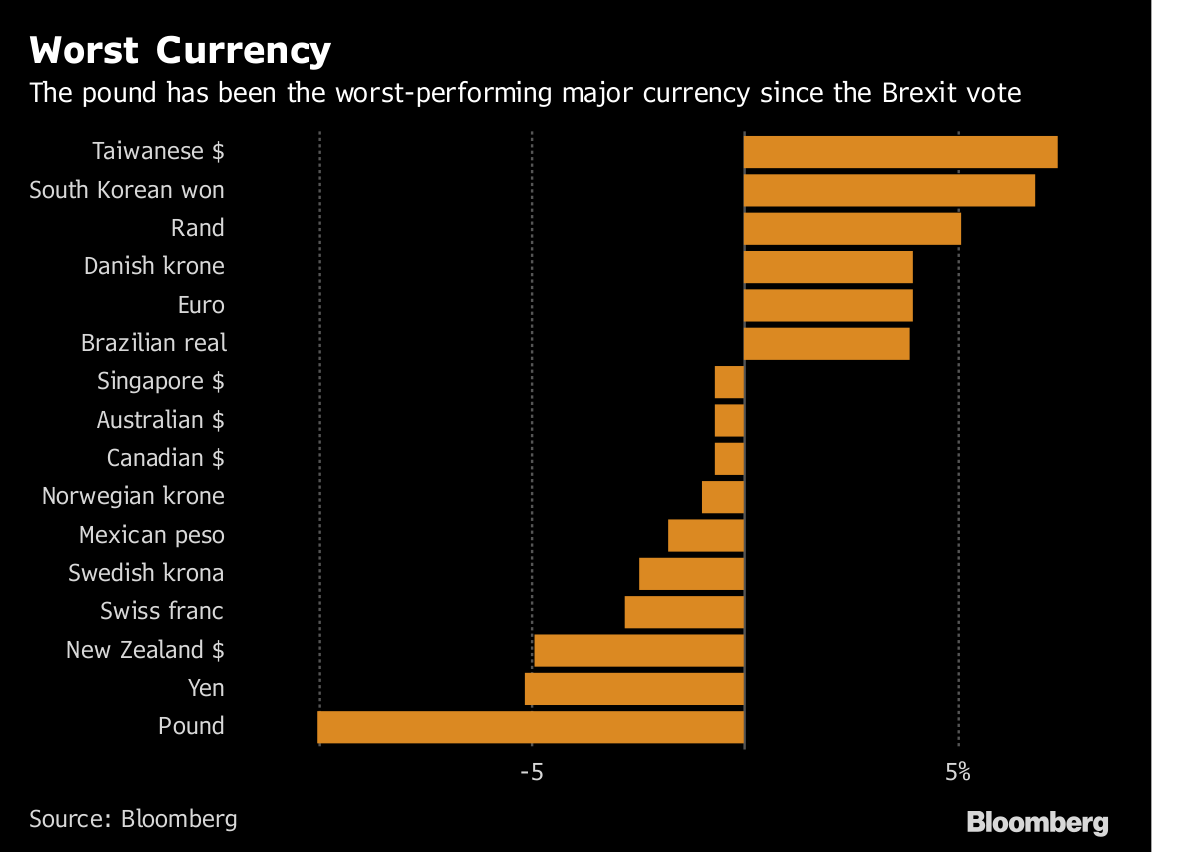 "Because farmers aren't doing particularly well, they have had to source good second-hand machinery and that's why the second-hand market is very strong at present," said Cheffins's Pepper, adding that manufacturers have raised prices for new models. "It's all about affordability. Most farmers can't buy, so they have to look at the second-hand market."
While the average farm income in the U.K. jumped 20 percent in the 2016-17 season, it was still 43 percent below 2011-12's level, government data show. Bumper grain harvests from Brazil to Russia have depressed prices, with a Bloomberg grain index heading for a fifth annual decline, the longest run in data going back to 1991.
Farmers are also feeling the pinch in the rest of Europe, and one Spanish dealer at the September auction complained about delays to EU subsidy payments which have limited farmers' income in his country this year.
About 90 percent of the tractors sold at Cheffins are bought by dealers, who then export most of that, Pepper said.
"The weak pound has meant that these exports can achieve better prices in sterling terms while becoming more competitive on export markets, boosting trade-in values and helping to support activity across the market," the AEA's Howarth said.
...
Read more